Vinyl Sheet Options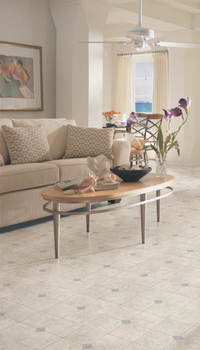 Vinyl sheet flooring (sometimes called sheet vinyl flooring) is one of the most popular flooring options available today. The primary benefit of sheet vinyl is the fact that it can be installed with few seams in most rooms, creating a smooth and clean finish on which families can sit. Sheet vinyl is durable, comfortable, and stylish.
We at Parkland Carpet One are pleased to offer a wide selection of sheet vinyl from brands such as Congoleum, Mannington, and IVC.
Congoleum
Congoleum is considered an industry leader since it only manufactures vinyl flooring. Its sheet vinyl is strong and durable in part because of its special wear layer technology. With this technology, Congoleum sheet vinyl is resistant to most scratches and scruffs, and it will also repel spills and stains. Congoleum offers a variety of styles, colors, and glosses within its many sheet vinyl collections.
Click here to learn more about Congoleum.
Mannington
Mannington sheet vinyl utilizes Mannington's unique NatureForm 4G technology, so its wood, slate, and stone looks are truly authentic. Many Mannington sheet vinyl options also include ScratchResist technology, which makes the surface virtually impossible to scratch or scruff. For extra strength and durability, ask us about Mannington commercial options!
Click here to learn more about Mannington vinyl.
IVC
We also carry the IVC Imagine Collection. This collection, which is exclusive to Canadian stores, emphasizes style and luxury. There are a variety of stylish looks available, from wood to tile to stone. Plus, like all IVC flooring vinyl options, the Imagine Collection is extremely durable and comfortable.
Click here to learn more about the IVC Imagine Collection.